What is the best time to visit Keukenhof in 2023?
|
In 2023 Keukenhof, the world's most beautiful spring flower garden, is open from 23 March untill 14 May.
Check out our complete Keukenhof guide: everything you need to plan your visit >>
In 2023 the Keukenhof gardens entrance tickets and combi-tickets are valid for one-time entry on a specific date and time. Some dates and time slots can be sold out quickly. It makes sense to do a reservation in advance.
For group reservations (more than 9 people) please make a request online.
When is it the best time to visit Keukenhof in 2023?
To see the flower fields in bloom we recommend to come to the Netherlands from last decade of April to the first decade of May (though the exact dates are very dependent on weather). During this period the chance to see the flower fields in bloem is the highest. You will find numerous publicly accessible fields in the neighbourhood of Lisse and Hillegom.
Keukenhof blooming reports
A few years ago we were making regular blooming reports from Keukenhof. You can look back and see what to expect in Keukenhof in March, April and May:
Events and flower shows in Keukenhof
Almost every weekend during the Keukenhof opening season there are special events in the park. There are also flower show in the Keukenhof covered pavillions:

23 March – 28 March 2023 – Hyacinths and tulip show
25 March – 26 March 2023 – Dutch music bands in Keukenhof
30 March – 4 April 2023 – Freesia and gerbera show
31 March – 2 April 2023 – Holland Heritage weekend
6 April – 11 April 2023 – Rose show
13 April – 18 April 2023 – Daffodils and special bulb show
19 April 2023 – Miffy in Keukenhof
20 April – 25 April 2023 – Alstroemeria show
27 April – 2 May 2023 – Lisianthus and cerbera show
4 May – 14 May 2023 – Calla, carnation and summer flowers show
23 March – 14 May 2023 – Anthurium and orchid show
children (aged 0 to 3) – free
children (aged 4 to 11) – € 9
Keukenhof combi-tickets (entrance + return bus ticket) in 2023 cost:
Please note that in 2023 you need to book tickets online and choose time-slot in advance. Tickets for the most popular dates (weekends and school holidays) are likely to be sold out quickly.
You can also book Keukenhof tours from Amsterdam:
Prior booking required for all Keukenhof tours. Book now >>
Keukenhof opening hours: 08.00 – 19.30.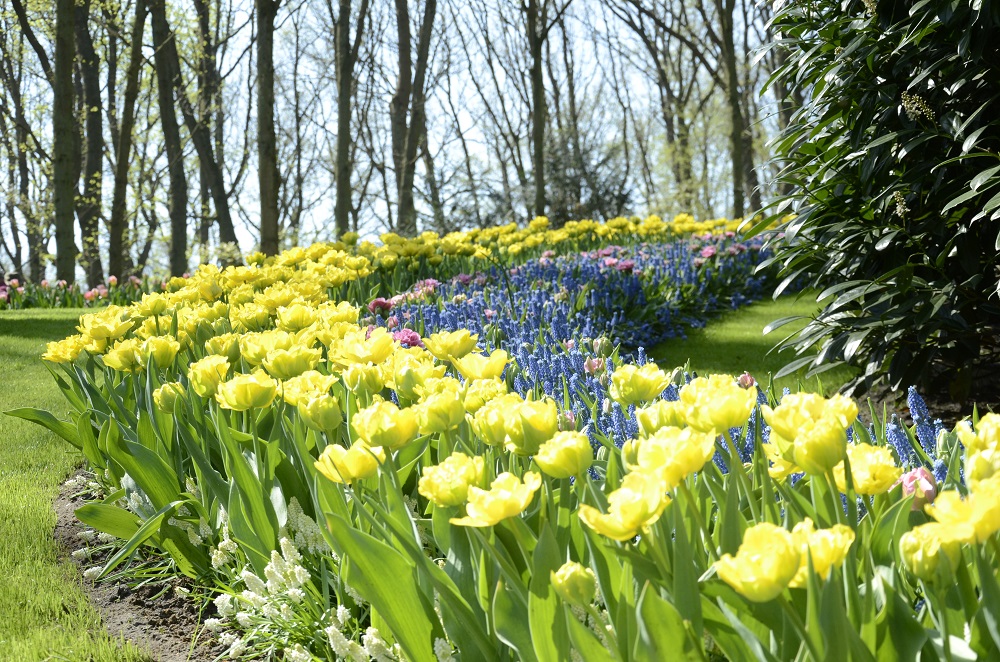 BLOEMENCORSO Flower Parade in 2023
The Flower Parade will take place on 22 – 23 April 2023. It will start on 22 April 2023 around 9:15 in Noordwijk. Approximately at 14:45 the beautiful cars decorated with flowers will process to Keukenhof and around 20:55 will arrive to Haarlem. On 23 April 2023 the flower compositions will remain in Haarlem.
Keukenhof official website: http://www.keukenhof.nl/en/
Keukenhof address for navigation: Stationsweg 166A 2161 AM Lisse
Planning your visit to Keukenhof? Make sure you book a hotel well in advance as in April – mid-May the Netherlands are very popular among travelers.
Booking.com has 1000+ accommodations to offer! Tip: if you are looking for a hotel near Keukenhof, check offers in Lisse, Leiden, Haarlem or Noordwijk, and find a cosy room at an affordable price.
See you in the Keukenhof gardens in 2023!
You might also like: