5 best places in Amsterdam for coffee with a view
|
Exploring Amsterdam, you wouldn't want to miss a moment. Feel like having a short break? Choose a place with the best panoramic view of Amsterdam! We have selected 5 cafés and restaurants in the center of Amsterdam where you can drink coffee, have lunch and enjoy a great view of Amsterdam.
Photos: Kristina Kutena http://kutena.nl
Blue Amsterdam
Blue Amsterdam is a café and restaurant with a beautiful 360-degree view of the city. It is located in a glass tower in the middle of the city centre, next to the Flower market (Bloemenmarkt). From the 3rd and the 4th floors you will get a bird's-eye view of Amsterdam, its cosy houses and famous historical buildings.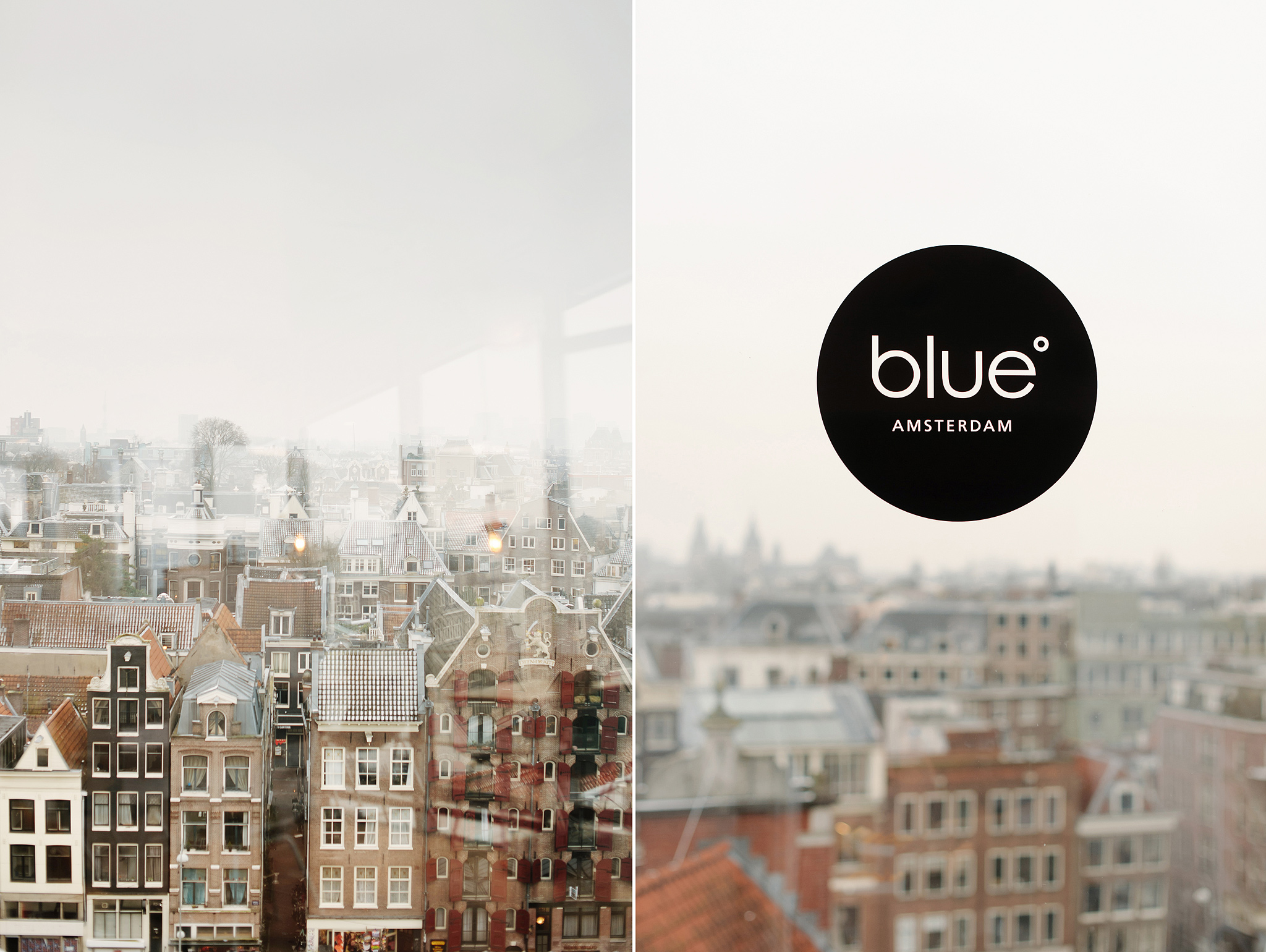 You will see Rijksmuseum, Munttoren, Carré theatre, Zuiderkerk, Westerkerk, Central Station, Royal Palace and much more. Just take the glass elevator from the shopping center Kalvertoren to the 3rd floor and you will find yourself surrounded by Amsterdam's landscapes.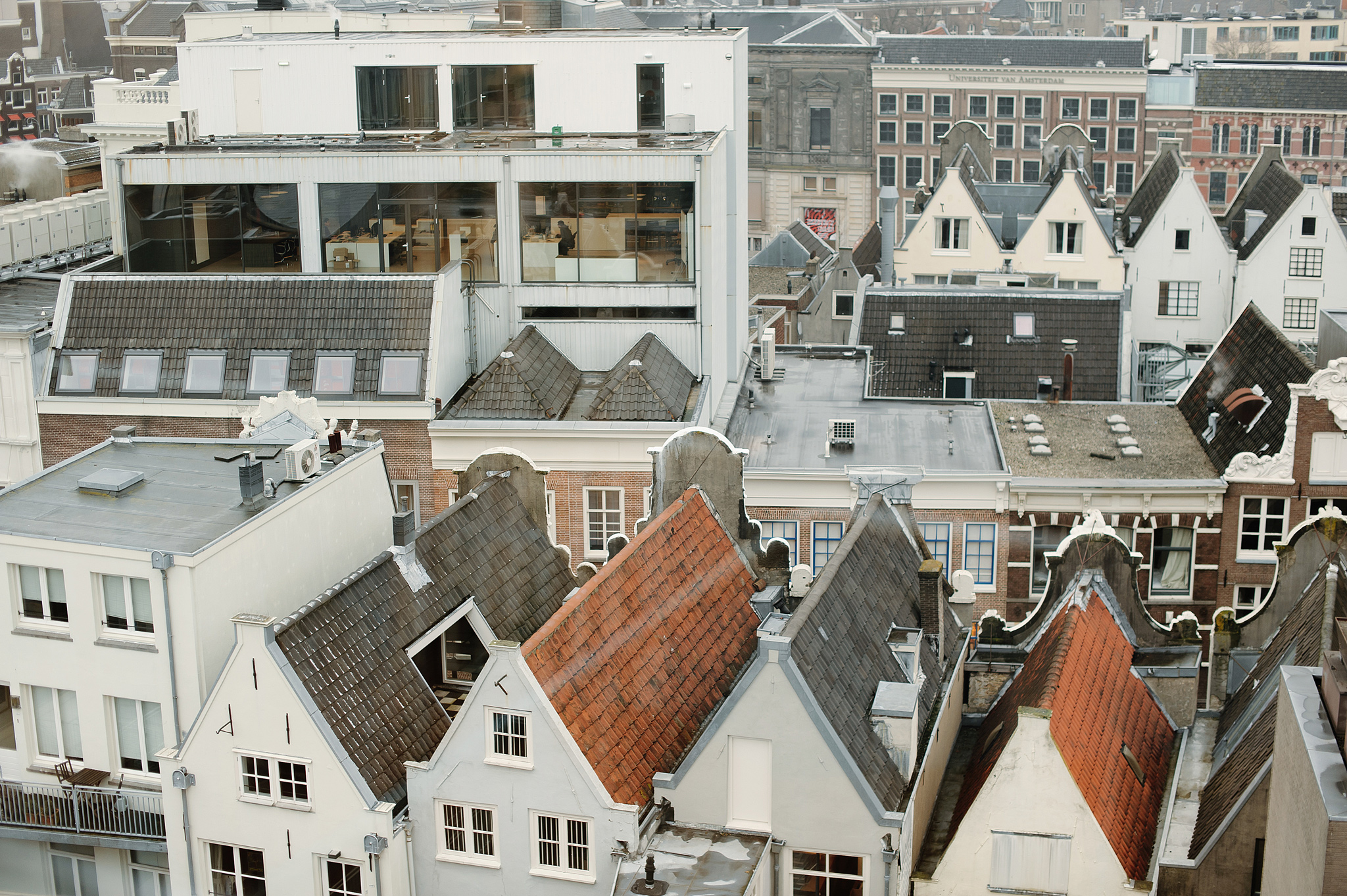 Blue Amsterdam has binoculars for everyone who wants to see Amsterdam in its every detail. Just grab one and enjoy the view!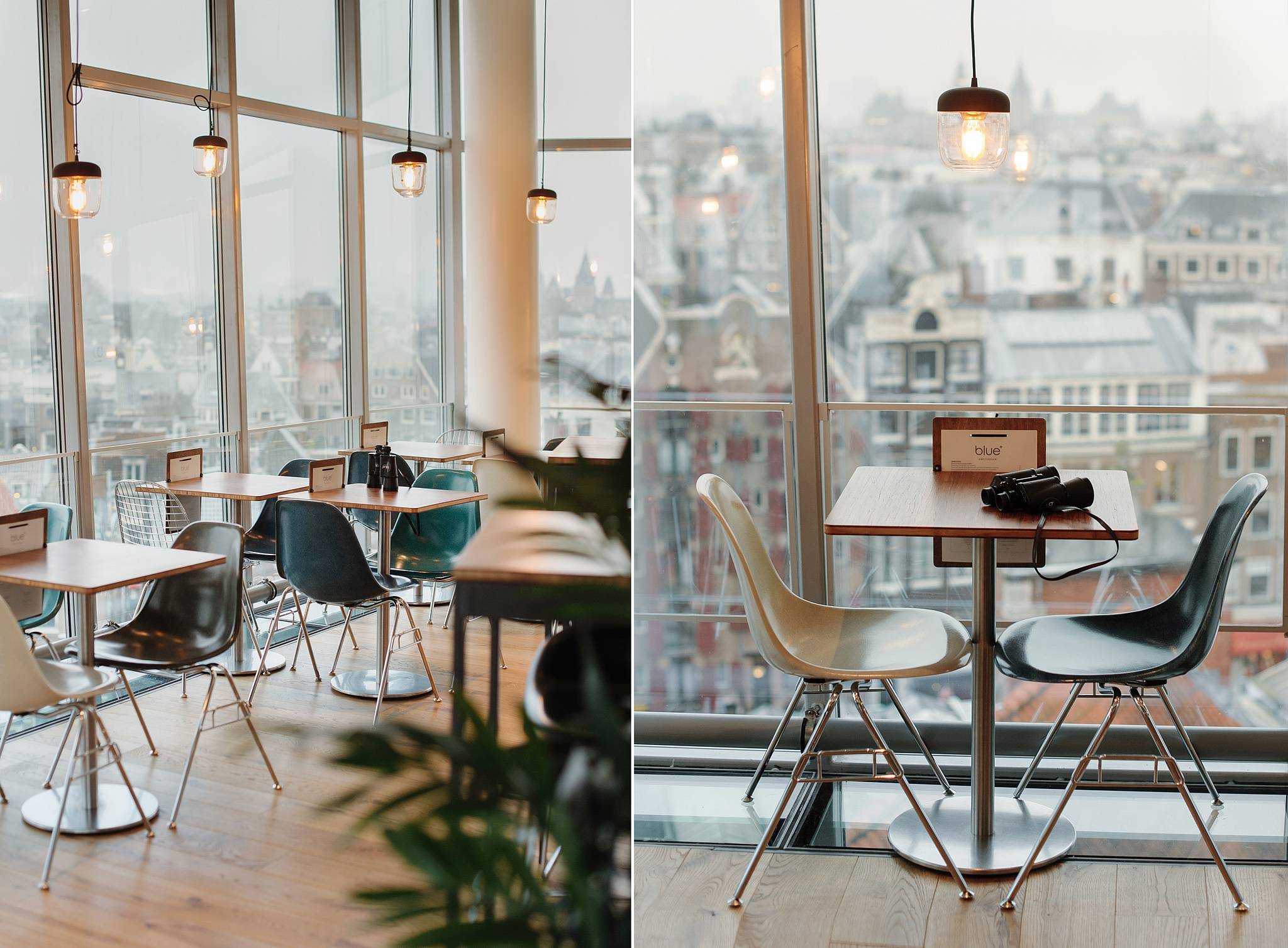 Blue Amsterdam offers a good selection of drinks and an extensive lunch menu.
Tip! At Blue Amsterdam you get 25% discount on lunch on presentation of your I amsterdam City Card. Make sure that your card is valid at the time of your visit.
Address: Singel 457, the 3rd floor of shopping center Kalvertoren. You can enter the centre from three sides: Singel, Heiligeweg and Kalverstraat.
Landmark: 1 minute walk from the Flower market.
SkyLounge Amsterdam
SkyLounge Amsterdam is located on the top floor of the DoubleTree by Hilton Amsterdam Centraal Station hotel. It is open to the public, which means everyone is welcome here. From the 11th floor you will enjoy an impressive panoramic view over the central part of Amsterdam and over the IJ river.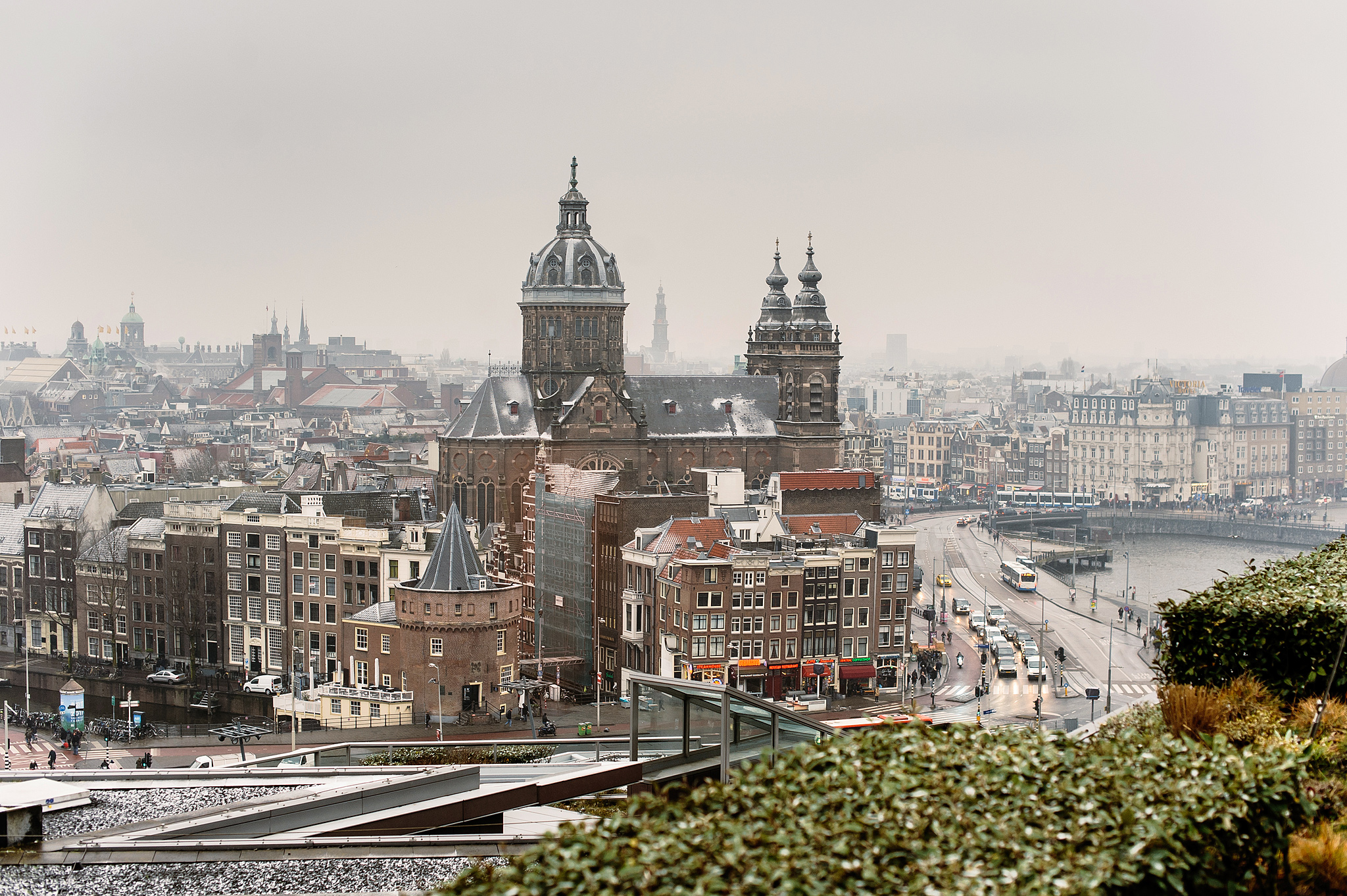 SkyLounge Amsterdam has a large inside space with floor-to-ceiling glass windows and an open roof terrace. Which spot to choose? It's up to you (well, and maybe up to the weather)!
During the day you can have a cup of coffee, lunch or small bites (including famous Dutch bitterballen) and enjoy the relaxed ambience of SkyLounge. Later in the evening SkyLounge Amsterdam turns into an energetic club with DJs music.
SkyLounge Amsterdam serves drinks (cappuccino/ latte/ espresso – € 7,50 including 3 sweets and a free refill) and food ranging from salads and bites to full meals. You can check the full menu >>
Address: Oosterdoksstraat 4, the 11th floor, accessible by elevator from the DoubleTree by Hilton Amsterdam Centraal Station hotel lobby area.
Landmark: 3-5 minutes' walk from Amsterdam Centraal station.
W Lounge & Mr Porter
W Lounge and Mr Porter restaurant are both located on the 6th floor of the W Amsterdam hotel. From here you can enjoy the panoramic view of the heart of Amsterdam. The Royal Palace and the magnificent building of Magna Plaza shopping center will be just in front of you.
If you feel like having afternoon coffee, tea or a cocktail, choose for W Lounge. Meanwhile Mr Porter steakhouse will offer you complete meals for breakfast, lunch, dinner, as well as drinks and bites.
You can also visit WET deck – a pool and terrace just outside W Lounge and Mr Porter. From Monday to Thursday guests are invited to use WET deck with a minimal spend of € 25 per person. From Friday to Sunday with a minimal spend of € 50 per person. Hotel guests can make use of WET deck for free.
Well, but as long as it's still winter, you can enjoy the view from the inside and play chess near the fireplace in Mr Porter.
Address: Spuistraat 175, the 6th floor of W Amsterdam (the Exchange building).
Landmark: behind the Royal Palace.
A'DAM Lookout & MadaM restaurant
A'DAM Lookout observation deck is one of the newest Amsterdam's attractions. From here you can spot numerous Dutch landmarks, from the IJ river and Amsterdam Centraal station to Marken and Volendam. People say, on a sunny day you can even see Utrecht's Dom tower, which is some located 45 km away from Amsterdam.
MadaM restaurant and bar are a part of A'DAM Lookout. You can order coffee (cappuccino/ double espresso/ latte – € 3,75) and lunch here. If you make a lunch reservation (you can choose between a two course menu for € 27,50 and a three course menu for € 34), you can enter A'DAM Lookout at no extra fee. And if you feel like having a cup of coffee, you will have to pay € 15 entrance fee (which is totally worth it!).
Address: Overhoeksplein 5, the 20th floor.
Landmark: across the IJ river from Amsterdam Centraal station. Take the free GVB ferry from the IJ-side of the station to Buiksloterweg.
Babel
Babel buffet style restaurant is located on the top floor of Amsterdam Central Public Library (OBA Library).
The south-facing outside terrace overlooks much of the historic part of Amsterdam. The terrace is only open during the warm time of the year (which means it's closed in the winter months and during bad weather).
But here is a trick: for better pictures and a better panoramic view go one floor down. On the 6th floor of the library you can enjoy the sight of Amsterdam from floor-to-ceiling glass windows (and you can even read a book – it's free unless you want to take it home).
Location: Oosterdokskade 143, the 7th floor of OBA library.
Landmark: 7-10 minutes' walk from Amsterdam Centraal station in the direction of NEMO museum.
Enjoy your lunch and coffee with a view in Amsterdam!
Photos: Kristina Kutena http://kutena.nl