Travelling by train in the Netherlands
|
How to buy a Dutch train ticket? Is it easy to travel in the Netherlands by train? Are Dutch trains expensive? How to get a discount if you're travelling by train with a group? Here is everything you need to know about train tickets in the Netherlands in 2023.
The Netherlands have a modern and extensive railway network, which includes around 400 stations. Intercity (faster) trains run between the larger cities, and Sprinter (slower) trains connect smaller stations. It's easy to explore the Netherlands by train!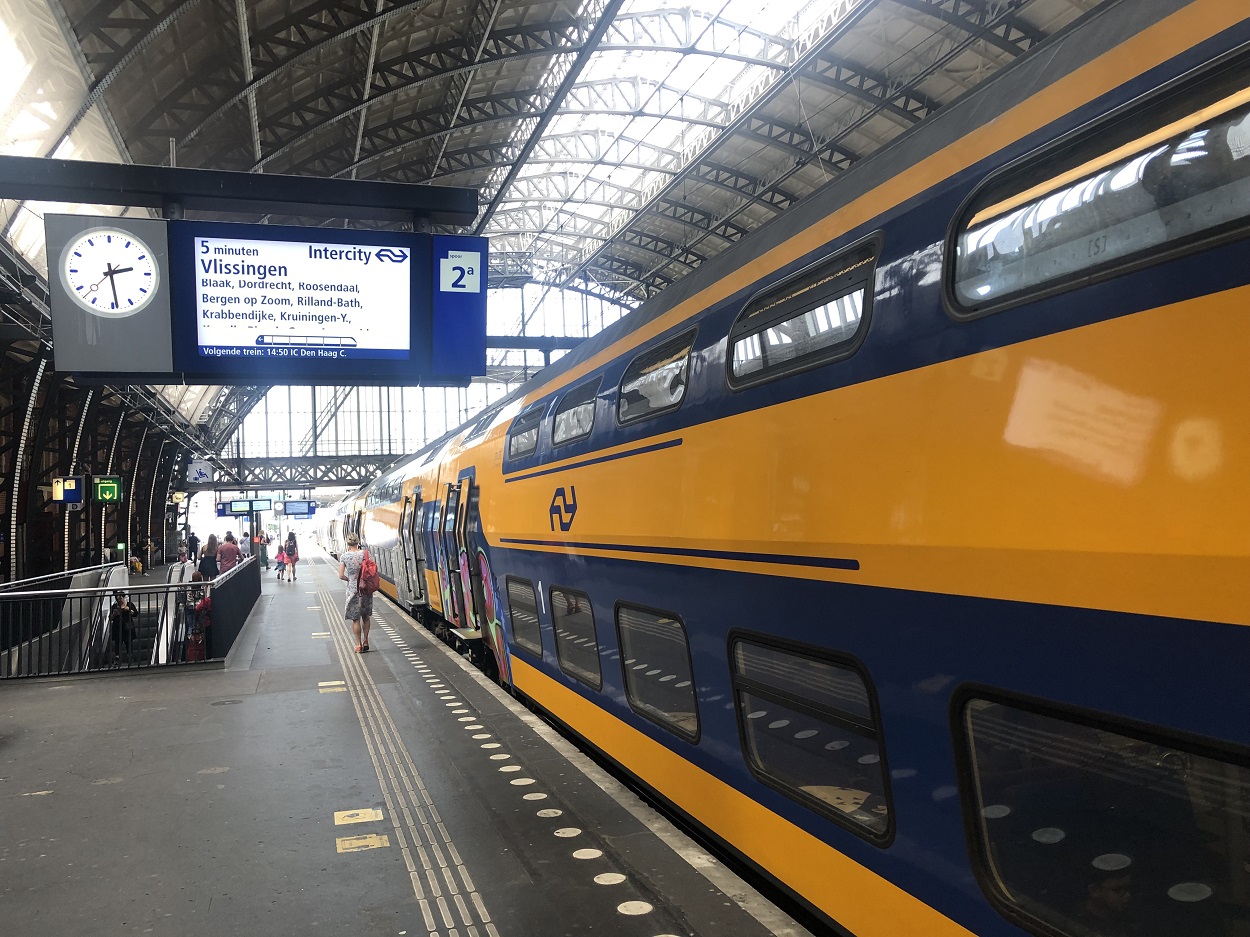 How to plan your train journey in the Netherlands?
Visit the official Dutch national rail company (Nederlandse Spoorwegen) website NS.nl for up-to-date information on train schedule, possible routes and fares. For international trains consult NSInternational.com.
If you have a complex route with several transfers, it can be a good idea to save your travel information, including the stations where you need to change the train.
To plan your trip door-to-door you can use a free Glimble mobile app.

Train tickets prices in the Netherlands
The price of your journey depends on the travel distance. Visit NS.nl website for current fares on your route.
If you take a high-speed Intercity Direct train between Amsterdam and Rotterdam, you will need to purchase an Intercity direct supplement. The supplement for a one-way journey costs € 2,90 in 2023.
How to buy a Dutch train ticket?
The easiest way is to buy your train ticket online at NS.nl. This e-ticket is € 1 cheaper than a ticket from a ticket machine. The ticket can be used any time at the selected date.
Alternatively you can get them from the vending machines at the stations or at the ticket desks. When you buy a disposable (single-time use) train ticket, you will be charged € 1 over the standard travel fare for the ticket itself.
If you are planning to travel around the Netherlands, we recommend to consider buying an OV-chipcard, which is valid in all means of public transport in the country. An empty smart card costs € 7,50 (but it will help you avoid paying € 1 every time you purchase a disposable ticket) and is valid for 4 – 5 years.
To travel with an OV-card you need to have a sufficient credit (€ 20 for travelling by train and € 4 for travelling by bus, tram, and metro).
OV-chipcards can be purchased at service desks or OV-chip marked machines at the train stations, at Tickets & Info offices or vending machines.
Group tickets in Dutch trains
If you are travelling with a group of 2 to 7 people during off-peak hours ( i.e. weekdays before 06:30, between 09:00 and 16:00, and after 18:30. At weekends and all day on public holidays), you can buy group train tickets:
2 persons €34 (€ 17,00 per person)
3 persons € 34 (€ 11,33 per person)
4 persons € 38 (€ 9,50 per person)
5 persons € 42 (€ 8,40 per person)
6 persons € 46 (€ 7,67 per person)
7 persons € 50 (€ 7,15 per person)
Check the details at NS.nl and order ticket online >>
Travelling by train with children
If you are travelling with children age 4 – 11, you can buy a special kids train ticket – Railrunner. It costs € 2,50 and is valid all day in all domestic trains.
Children up to the age 3 travel for free if not occupying a seat.
How long is a train ticket valid?
A single or return train ticket in the Netherlands is valid on the date indicated on the ticket. It means that you can take any local train on the chosen date and route. But you can use the ticket only once.
Amsterdam Centraal train station
Amsterdam & Region Travel Ticket
Tip! If you are planning to stay in the Amsterdam area, Amsterdam & Region Travel Ticket can be a good option for you.

Amsterdam & Region Travel Ticket (ARTT) is valid for 1-3 days of unlimited travel by train, bus, tram and metro in Amsterdam and surrounding areas (including Volendam, Edam, Marken, Zaanse Schans, Haarlem, Zandvoort and Keukenhof.
Amsterdam & Region Travel Ticket map in 2023. Open the image in a new window to enlarge it.
Prices in 2023:
1 day – € 21,00
2 days – € 31,50
3 days – € 40,50
The ticket is valid from the first time you check in until 04:00 hours after the last valid day.

Check-in and check-out
No matter which type of ticket you are using (except for the e-tickets) at the start and the end of your trip you have to check-in and check-out. Simply scan your ticket or OV-card at the special card readers. You can find them at station halls, metro gates and near the entrance doors in trams and buses.
If you are travelling with an e-ticket, you generally don't need to check-in and out. The ticket has your name, travel route and the date when it's valid, and that's enough. However many train stations in the Netherlands are equipped with gates, and you need to open them to access the station.
With your e-ticket you can open the gate by scanning the ticket barcode at one of the gates equipped with a barcode reader (in has a "Scan ticket" symbol on its display).
Travelling 1st and 2nd class in the Netherlands
In most trains in the Netherlands you can choose between travelling 1st and 2nd class, which differ in price and comfort of seating. The first class compartments have larger seats and more space between them, especially in the Intercity trains.
1st class seats in a Dutch Intercity train
2nd class seats in a Dutch Intercity train
The first and second class seating is indicated by the class number on the board of the train.
Fine for travelling without a ticket in the Dutch trains
The fine for travelling without a valid ticket on public transport in the Netherlands is € 50 + the cost of a train ticket. This fine is the same for all forms of public transport: train, bus, tram, metro. The administration fee is € 15.
Travelling by train on New Year's Eve
From 27 December 2022 to 6 January 2023 trains in the Netherlands operate a holiday timetable. During the Christmas holidays, fewer people travel by train. Therefore there will be more or less the same timetable during the week as during the weekend.
On New Year's Eve (31 December 2022) there will be no trains after 20:00. Train service will resume on New Year's Day around 10:00. On the Rotterdam-Schiphol-Amsterdam-Utrecht night network, a train will run every hour from 01:00 on New Year's Day. And from 5:00 am every half hour. Check the train departures times and plan your trip in advance!
More about travelling by train in the Netherlands:
Planning to continue your European trip from Amsterdam? Just take a train and continue your journey to other popular European destinations – Paris, Brussels, Brugge, Düsseldorf, Cologne, Berlin. Most international trains to Germany, France, Belgium run directly from Amsterdam Centraal Station. Check itineraries, prices and buy international train tickets online >>
The city transport in Amsterdam (trams, buses, metro, ferries) is operated by the GVB company. To plan your door-to-door trip within the city use the public transport 9292.nl journey planner. Just indicate you departure point and destination, and the system will show you the root, travelling time and schedule. Transport prices, tickets, routes in Amsterdam >>
Amsterdam airport Schiphol is located 17 kilometers away from the center of Amsterdam. After you pick up your luggage, head to the Schiphol Plaza and follow the signs to find trains, buses or taxis. Here you can compare travel times and prices from Schiphol to Amsterdam by train, bus line 397 and taxi and book airport transfer online >>