Things to do in the Netherlands with Kids
|
Looking for family and kids activities in the Netherlands? Here are 15 top places and attractions we recommend to visit with children in Amsterdam and other cities in the Netherlands.
Things to do with kids in Amsterdam
1. Artis Royal Zoo
Artis Royal Zoo is the oldest zoo in the Netherlands and one of the country's most popular attractions. Next to the zoo itself, Artis has an aquarium, a planetarium and numerous playgrounds. Next door is Micropia, the world's only museum of microbes (recommended age is 8+ years). Come and meet 750 animal species including zebras, giraffes and elephants in the heart of Amsterdam! ARTIS is open 365 days a year.
Skip the line tickets:
2. NEMO Science museum
NEMO Science Museum is a world-known interactive attraction which educates kids about the fascinating world of science. The NEMO collection contains 17.000 technology objects. You can touch, play and interact with hundreds of games. It's fun for the whole family! On the roof of the NEMO building you can find the open-air exhibition Energetica, sit on a large terrace and take great panoramic photos.
3. Treasure hunt at the Van Gogh museum
Can an art museum be fun for kids? Yes! In the Van Gogh museum children can do the Treasure hunt with fun assignments (in Dutch or English) that help to explore Van Gogh's paintings. It is free and available at the Information desk. Answer the questions, complete the tasks – and get a little gift back at the Information desk. An unforgettable experience!
4. OBA Amsterdam public library
OBA Amsterdam library is a popular place among the locals with children. You don't need subcription to enter the library, it's free for everybody (you only have to get a subscription if you want to borrow the books).
The ground floor of OBA library is perfectly designed for children. There are play corners, educational facilities and of course lots of books in different languages.
A nice bonus – you can enjoy a perfect panoramic view over Amsterdam from the top floor!
Address: Oosterdokskade 143, 1011 DL Amsterdam
5. LEGO Store Amsterdam
The LEGO flagship store in Amsterdam is a paradise for kids (and some parents too)! Here you will find LEGO sculptures inspied by the Dutch history and culture, such as an Escher staircase, the Mint tower, Van gogh portait, a Dutch windmill and many other.
There is also a kid's play area, pick-a-brick displays, a Minifigure Factory for customizable figurines, a Mosaic Maker that creates personalized portraits from LEGO blocks. The personnel is very friendly and helpful. It feels good that they are trying to involve kids in the games and show they the fun of playing with LEGO, and not trying to sell something.
Address: Kalverstraat 57, 1012 NZ Amsterdam.
Thing to do with kids outside Amsterdam
1. Madurodam
The Netherlands are too big to see the whole country in one day. But in the miniature city of Madurodam you can explore its highlight: tiny windmills, great palaces, famous Dutch landmarks and historical cities. All replicas in the theme park are made in 1:25 scale. You will feel like a fairy tale giant! Madurodam is located in the Scheveningen district of The Hague, so you can combine it with a visit to the beach.
Madurodam address: George Maduroplein 1, 2584 RZ Den Haag.
2. Efteling
Efteling, the theme amusement park, sometimes called the Dutch Disneyland, will make you feel like you stepped into a fairy tale. It has attraction for everyone, from the littlest ones to adventurous roller coaster lovers. Check a full list of attractions here >>
The Efteling themepark is located around 100 kilometers from Amsterdam. You may consider staying overnight in one of the theme park hotels. You will feel like a prince, a princess or a fairy tale character! Efteling is open 365 days a year.
Efteling address: Europalaan 1, 5171 KW Kaatsheuvel.
3. Sprookjeswonderland
Sprookjeswonderland, a fairy tale park in Enkhuizen, is perfect for kids from 2 to 8 years old. It has everything to make you little ones believe they are in a fairy tale: from beautiful attractions, tiny trains and boats to a small animal farm and theme playgrounds. In 2021 it's open till October, 24 and later around Christmas.
Sprookjeswonderland address: Kooizandweg 9, 1601 LK Enkhuizen.
4. Blijdorp Zoo in Rotterdam
One of Europe's most beautiful zoos, Blijdorp Rotterdam Zoo is a place where you can see animals and birds from around the world. Polar bears, tigers, elephants, sea lions, gorillas, and more call it their home. Here you can also find playgrounds and numerous cafes. A nice place to spend a day with the whole family! Rotterdam Zoo is open 365 days a year.
Blijdorp address: Blijdorplaan 8, 3041 JG Rotterdam.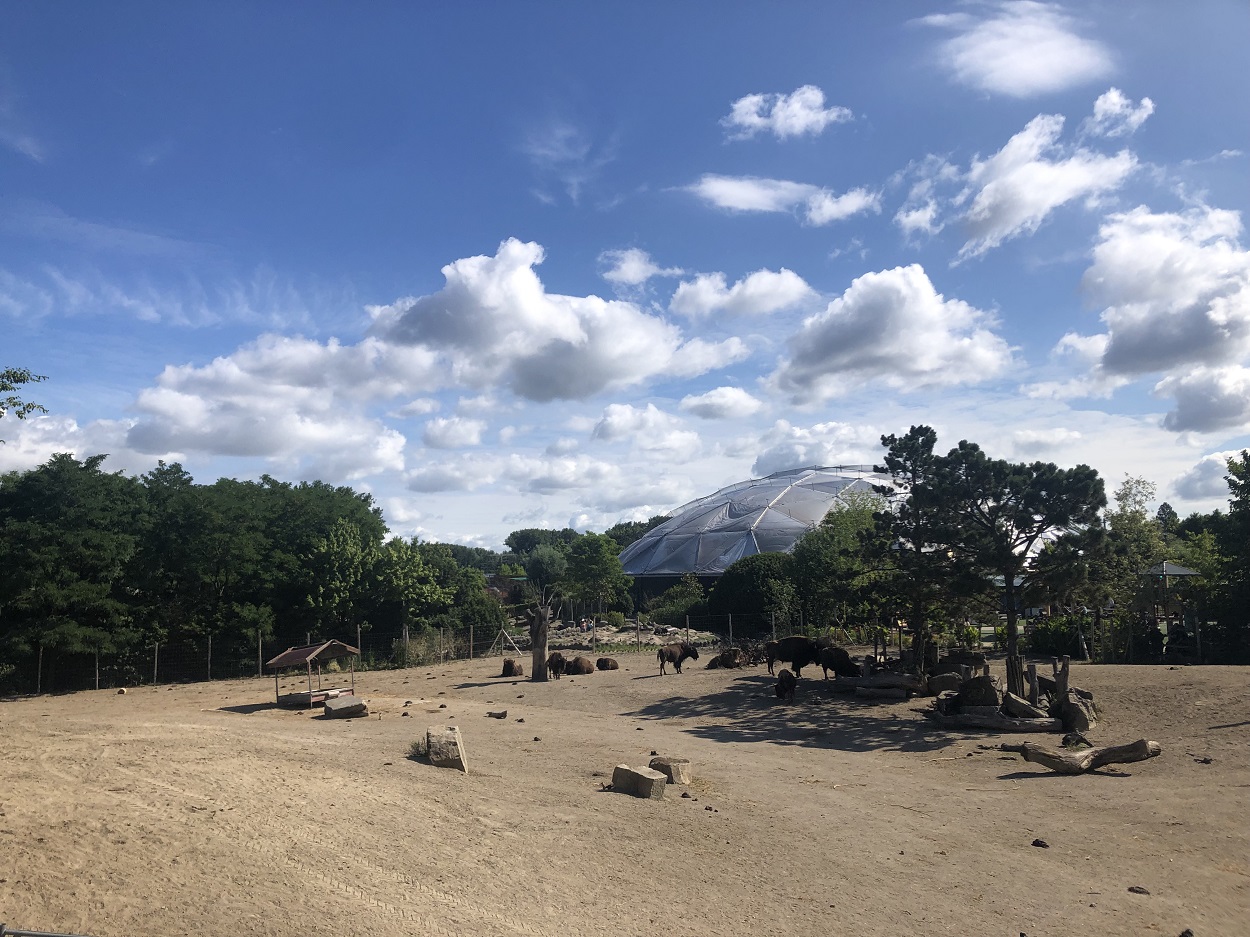 5. Walibi Holland
Walibi Holland is an amusement park. It's a nice place for a day trip for everyone from the age of 6. There is something for all ages: dozens of attractions for young and old. Check all attractions at Walibi park >>
Walibi Holland is located in Biddinghuizen, 70 km away from Amsterdam. Discover the park:
6. Julianatoren
Julianatoren is another amusement park located in Apeldoorn, it's an one hour drive from Amsterdam. The park offers more than 60 great attractions for children up to 10 years old.
Entrance tickets (from 2 years) cost € 27,50. You can get an early bird discount € 7,50 per person if you book tickets on the Julianatoren official website at least 7 days in advance. Book tickets online >>
7. Linnaeushof
Linnaeushof is Europe's biggest playground located in Heemstede, between Haarlem and Keukenhof. It has 350+ play sets and attractions such as cable cars, a trampoline, pedal boats, go-karts, bump bikes, miniature golf courses, a monorail, a water playground, a super slide and many more. Fun for everyone! Linnaeushof is open 7 month a year.
Linnaeushof address: Glipperweg 4C, 2104 AK Heemstede.
8. Corpus Experience
The Corpus Museum is an interactive body museum near Leiden. It invites its visitors for a "spectacular journey through the human body" and gives a unique close-up into how a person's body functions. There are also lots of exciting tests and fun games to play. The minimum age to visit CORPUS is 6 years.
CORPUS address: Willem Einthovenstraat 1, 2342 BH Oegstgeest.
9. Spoorwegmuseum (Railway Museum)
The Railway Museum in Utrecht is rather an educational theme park than a regular museum. It's very interactive and designed so you can explore the trains yourself.
You can see magnificent historical machines. Walk through the interior of a train with the different types of cabins they offered in the past. See a play about the Orient Express.
Children's who can sit independently and are higher than 90 cm, can go on a little adventure by a little Jumbo Express train.
A wonderful day for entire family!
Spoorwegmuseum address: Maliebaanstation 16, 3581 XW Utrecht
10. Openluchtmuseum (Dutch Open Air Museum)
The Dutch Open Air Museum in Arnhem is one more attraction where you can spend a great day with entire family. Here you will see authentic buildings, farms, factories and other objects collected from different parts of the Netherlands and brought in one place. This is where the history comes to life. There are all kinds of activities organized especially for children.
Openluchtmuseum address: Hoeferlaan 4, 6816 SG Arnhem.

11. Space Expo in Noordwijk
Is you kid a fan of space ships and is he dreaming about travelling to the moon? Visit Space Expo, Museum of space history with exhibits on space, gravity & satellites and explore the wonderous world of space travel.
Kids older than 9 can also take the Space train and get a unique insight into the buildings of ESA ESTEC and the European Space Agency. Tickes for the Space train can be booked online one week in advance. The Space Train tour is in English and Dutch.
Space Expo address: Keplerlaan 3, 2201 AZ Noordwijk
Enjoy your visit to the Netherlands with kids!
Need more travel inspiration?
Looking for a special place for a weekend getaway or staycation with children? Welcome on Texel! You will enjoy the relaxing atmosphere, tranquility and stunning landscapes of this beautiful Dutch Wadden Islands, off the coast of the Netherlands. Rent a bike and enjoy the endless fields, meditative sheep and the dune landscape. Climb the famous Texel lighthouse in the north of the island. Or just relax on the beach! More things to do on Texel >>