Sinterklaas 2022 in the Netherlands
|
The Netherlands are famous for their events which can be described as «only in Holland». King's Day, the Keukenhof gardens. And, of course, the winter holiday of Sinterklaas. It's celebrated annually on the 5th of December. But the whole festive story starts earlier in November.
So, who is Sinterklaas (Saint Nicholas)?
He looks like Santa Claus or Father Christmas, but he's a totally different person (here you can find at least 7 differences)! According to the legend, he lives in Spain, and comes to the Netherlands to give presents and little treats to the children.
Sinterklaas doesn't come alone. He arrives with his white horse Amerigo and a team of the Zwarte Pieten, who probably have been stuck in chimney for a while.
Arrival of Sinterklaas (intocht)

Every year Sinterklaas arrives to the Netherlands by boat. Thousand of people come to meet and great him. The day after Sinterklaas' arrival traditional colourful parades are organized in many cities through the Netherlands.
Sinterklaas 2022

In 2022 Sinterklaas arrives to the Netherlands on Saturday, November 12, 2022. The place of official Sinterklaas arrival (landelijke intocht) in 2022 is Hellevoetsluis.
Many municipalities will also organize local Sinterklaas intocht events. For example, in Amsterdam Sinterklaas intocht 2022 will take place on November 13, 2022. For more information see sintinamsterdam.nl.
>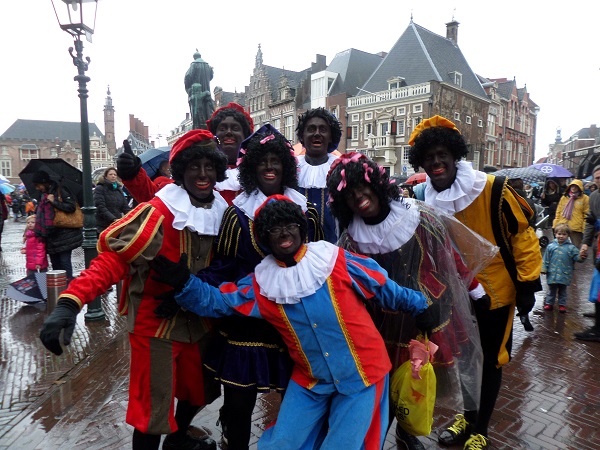 A few weeks later, on December 5 the kids of the Netherlands will get their presents from Sinterklaas. Holiday season is just around the corner!
Sinterklaas presents ideas
Small presents:
Bigger presents:
Sint Aanbiedingen at De Bijenkorf! 30% discount on thousands of items, from 23 November till 30 November.
Come to the Netherlands and experience it yourself!