Public Transport in Amsterdam
|
How to get around in Amsterdam?
That's easy! Public transport journey planner will help you find out which tram, bus or metro line is the best for you. Simply type your departure point and destination, and the system will show you the root, travelling time and schedule.
Check 9292.nl to plan your door-to-door trips by bus, tram, metro and train in the Netherlands.
Public Transport Prices in Amsterdam: types of tickets
Amsterdam city transport is operated by GVB company. You can buy single, day or multi-day tickets from GVB vending machines or directly from the driver. GVB prices in 2020 are:
| Ticket valid for | Price |
| --- | --- |
| 1 hour | € 3,20 |
| 1 day – 24 hours | € 8,00 |
| 2 days – 48 hours | € 13,50 |
| 3 days – 72 hours | € 19,00 |
| 4 days – 96 hours | € 24,50 |
| 5 days – 120 hours | € 29,50 |
| 6 days – 144 hours | € 34,00 |
| 7 days – 168 hours | € 37,00​ |
While using public transport in Amsterdam you have to check-in and check-out (present your ticket to a validator on board). The ticket becomes valid the first time you check-in.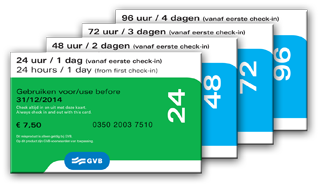 Children up to 4 y.o. travel for free. A ticket for children aged 4 – 11 costs € 4 per day. The child day ticket works just like the normal day ticket. It is valid in all GVB trams, buses and metro lines starting from the time that your first check in.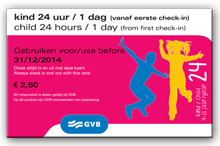 Where to buy GVB tickets? You can buy 1 hour and 1 – 2 days tickets on board of the tram or bus. The driver doesn't accept cash, you can only pay by credit card or contactless. You can purchase other types of tickets at GVB service points, vending machines and info counters. Where can you find these?
You can also order GVB tickets for 1 – 7 day online >>
Another option is to buy an anonymous OV-chipkaart – a contactless rechargable card used for all public transport in the Netherlands, including trains. The card itself costs € 7,50. In order to travel with an OV-chipkaart, the card must contain enough credit to complete a single journey: for the bus or tram journey you need to have a minimum of € 4 credit on the card before checking in. For traveling with NS trains a minimum of € 20,00.
An anonymous OV-card can be purchased at GVB offices, at the stations, in newsagents, in supermarkets.
Alternatively you can order I Amsterdam City Card for 24 – 120 hours, which gives free admission to 44 museums and attractions in Amsterdam and free unlitimed rides by GVB trams, buses & metro for the duration of your card. Easy and convenient.
Please note that GVB tickets are NOT valid:
In public transport operated by other companies (Arriva, EBS, Connexion etc. Usually these are buses that run from Amsterdam to other cities, like Volendam and Zaanse Schans). If you need to find out which transport company operates on your celected route, check 9292.nl website (the name of the company is indicated in the line with the bus number – it's EBS company in the example below).
In the train from Schiphol airport to Amsterdam. You will need to buy a separate train ticket. Alternatively you can buy Amsterdam & Region Travel Ticket, which includes unlimited travel by bus, tram and metro (operated by GVB, Connexxion and EBS, including night buses) as well as NS trains in the Amsterdam area for 1, 2 or 3 days.
During the Keukenhof opening season Amsterdam & Region Travel Ticket is also valid in bus lines:
852 (Amsterdam RAI – Keukenhof)
854 (Leiden CS – Keukenhof)
858 (Schiphol – Keukenhof)
859 (station Hoofddorp – Keukenhof)
50 (station Haarlem – Keukenhof).
You can also use the Tulip Festival Card, which is a great combi of Amsterdam & Region Travel Ticket, the Keukenhof entrance ticket, Amsterdam canal cruise and several discount cards.
Here you will find more detailed guides to travelling around the Netherlands by public transport:
The Netherlands have a modern and extensive railway network, which includes around 400 stations. Intercity (faster) trains run between the larger cities, and Sprinter (slower) trains connect smaller stations. It's easy to explore the Netherlands by train! Find out how to plan your journey, buy a train ticket online or at the station>>
Airport Schiphol is located 17 kilometers away from Amsterdam. After you pick up your luggage, head to Schiphol Plaza and follow the signs to find trains, buses or taxis. Compare travel times and prices from Schiphol to Amsterdam by train, bus 397 and taxi and book airport transfer online >>
Planning to continue your trip around Europe from Amsterdam? Just take a high-speed train and continue your journey to other European destinations. Most international trains to Germany, France, Belgium run directly from Amsterdam Centraal Station. Check itineraries, prices and book international train tickets online >>
Planning a trip to Amsterdam? Book a room for your stay!