From Amsterdam to Paris by train: plan your trip
|
The French capital of Paris is just a short train ride from Amsterdam. You can wake up in your hotel in Amsterdam and already eat fresh croissants near the Eiffel Tower in the afternoon. Here are some tips that will help you book train tickets from Amsterdam to Paris and plan your trip.
The earlier you book your train tickets, the less you pay. The lowest train fare from Amsterdam to Paris in 2022 is € 35 one-way. If the € 35 train tickets are sold out, the price will increase to between € 55 and € 135 one-way.
From Amsterdam to Paris by train: timetable in 2022
There are 9 daily Thalys international train connections from Amsterdam, Schiphol airport and Rotterdam to Paris and back. For actual travel times, check the timetable on NS International official website >>
This summer travelling by train has become probably the best way to see Europe. It's incredibly busy at the Schiphol airport. When you choose to travel from Amsterdam to Paris by train, you can board easily without hassle, forget about parking stress and traffic jams, and arrive to the center of the city. It's also sustainable, comfortable and beautiful! Book your train tickets in advance!
Prices train tickets from Amsterdam to Paris
You can get your Thalys train tickets from Amsterdam to Paris online and print them before you travel. By buying tickets online you avoid booking and service fee. NS International website accepts MasterCard, Visa and American Express credit cards. Buy your train tickets >>
Tip! By booking your train tickets to Amsterdam – Paris – Amsterdam early you get the best price. Booking starts 3 months before departure.
Train tickets from Amsterdam to Paris for children
On Thalys trains children up to 3 years old travel free when sitting on your lap. Children up to 11 years old get a discount. For them the price of a single train ticket from Amsterdam to Paris is € 15 in Standard (second class), € 20 in Comfort and € 30 in Premium (first class). Book your train tickets online >>
Things to do in Paris
From Boat tour on the Seine and walk through the Montmartre district to tasting the best macarons and ice cream – here you will find the best tips for your city trip to Paris. Here you can also find free:
Here you can also find a great overview of things to do in Paris with children. Have fun!
Hotels in Paris
From Amsterdam to Disneyland Paris by train
Starting from 31 March 2019 there are also direct trains connecting Amsterdam Centraal station and Disneyland Paris (Marne la Vallée station).
Travel price: from € 35 one-way with Thalys
Travel time Amsterdam – Disneyland Paris: 3:50
Travel frequency: On Friday, Saturday and Sunday from March 18, 2022
Travel times and schedule Amsterdam – Disneyland
As of 14 July 2022: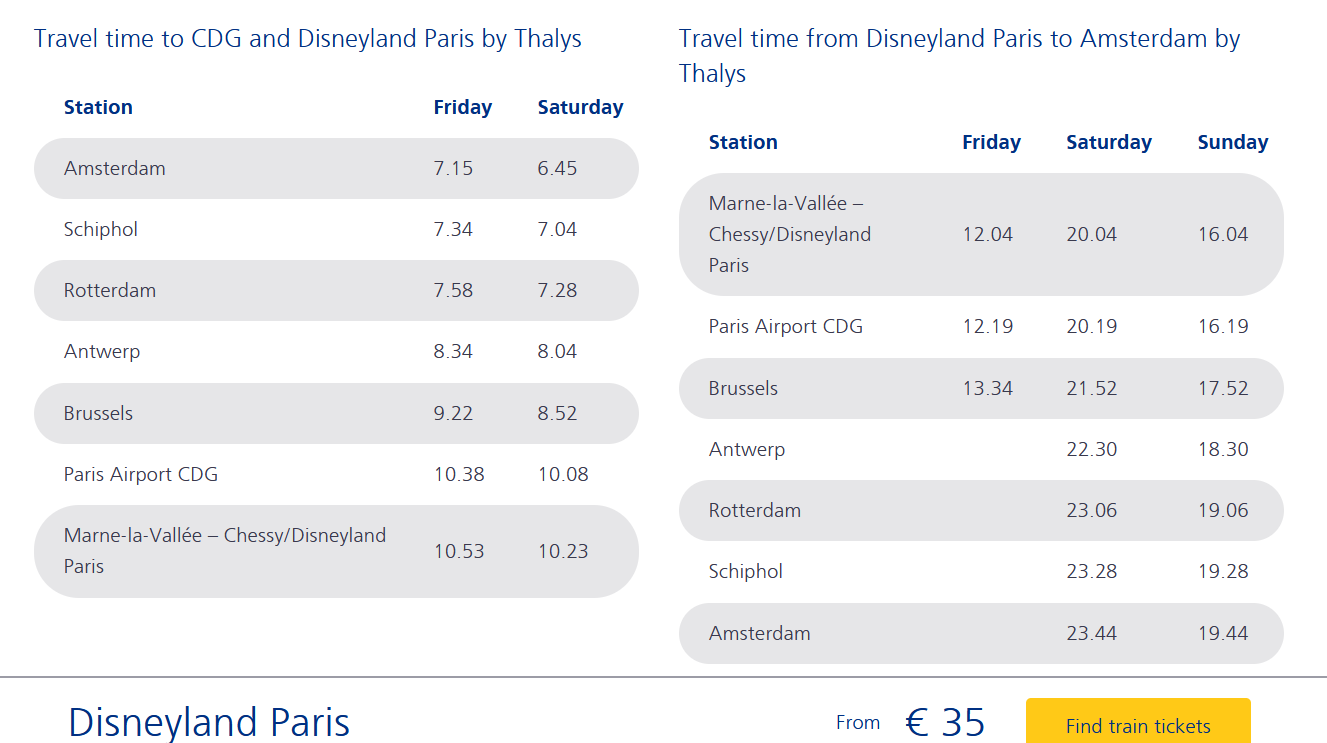 Enjoy your trip from Amsterdam to Paris by train!
Also good to know:
Planning to continue your European trip from Amsterdam in 2022? Just take a train and continue your journey to other popular European destinations – Paris, Brussels, Brugge, Düsseldorf, Cologne, Berlin. Most international trains to Germany, France, Belgium run directly from Amsterdam Centraal Station. Check itineraries, prices and buy international train tickets online >>